Bathroom Design
And

Remodeling
Remodeling your bathroom? Need more room for your family? Tired of waiting your turn?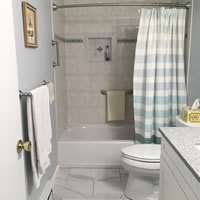 One of today's most popular Buffalo home remodeling project is updating or building a new bathroom. Modern bathrooms have become stylish, efficient, and very comfortable.
A freshly remodeled bathroom can create a new level of comfort and enjoyment to your home as well as adding to the value of your house. When we remodel bathrooms we like to give them a personality and make them stand out. They need to be unique and inspiring. We like to bring in the old and merge it with the new in a harmonious way. Here you can see a few pictures of how we accomplish this in old homes. We mix the old with the new and come up with a unique bathroom.
View Our Bathroom Remodeling Examples!
Free Bathroom Remodeling Estimates, Discount Prices, 31 Years of Experience in Buffalo and Western New York area, Licensed, Insured and we look forward to serving you!