Deck, Porch
And

Patio Construction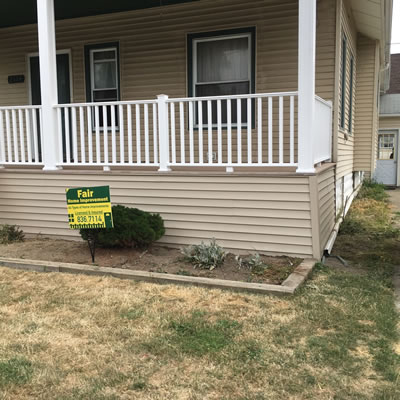 While exploring our outdoor living area you will find various projects to beautify and utilize your backyard. We will handle any size project, from a cozy patio area to a resort where you could spend most of your time. Regardless of the scope of the project, great care will be taken to ensure that we deliver the highest quality product you can buy. We take great pride in our work and the fact that each customer is fully satisfied.
At Fair Home Improvement our key word is value. Our products and services are priced competitively, while using only high grade materials, which will be installed by experienced professionals who take pride in their work. When the project is complete, you will be proud to show it off to your friends and neighbors. When it comes to strength, your project will be "overbuilt", ensuring a product with the highest structural integrity.
Decks
Fair Home Improvement Quality Decks & Porches bult year-round in Erie County, NY. We currently serve homeowners in the greater Western New York, Buffalo NY, Lancaster NY, Cheektowaga NY, and Rochester NY metro areas. Having the right deck can really enhance your homes value. Whether you just need a little sitting area outside or you are looking to do some entertaining for a larger group, we can help you design just the right deck for you. All you need is to tell us your Dream Ideas. We'll take it from there.
We can create any type of custom deck, including Covered Decks, Gazebos, Pool Decks, Railings, Screened Porches and Low Maintenance Composite Decks. Our goal is to provide the knowledge that will help you create your personal outdoor living area.
Porches, Patios and Sunrooms
There is no better way to add space, beauty and value to a home than having a sunroom, porch or patio built by Fair Home Improvement. Each of our outdoor living areas is constructed by our experienced craftsmen, using the highest quality materials. Plus, according to Qualified Remodeler Magazine, decks, porches and sunrooms on average return 95% of their construction value back at selling time, making one of our projects a great investment for any homeowner.

Our screened porches are designed and built to be the star attraction of any home. And, with the variety of design options offered, we can surely fit your budget. A new sunroom will allow you to extend the summer right into the fall. These popular rooms flood the interior space with light. By adding heating, cooling and insulation, you can enjoy the outdoors all year long, while relaxing in comfort.

Fair Home Improvement handle all of the details, including obtaining building and zoning permits, checking neighborhood covenants, and marking underground utilities before excavation. The only thing you have to do is enjoy your expansion when we're done.
Our success depends upon your satisfaction!
Our deck, porch and patio construction installers are experienced professionals, they take great care and pride in a job well done!
Free Deck & Porch Estimates, Discount Prices, 31 Years of Experience in Buffalo and Western New York area, Licensed, Insured and we look forward to serving you!